Getting Started
All of our widgets in one spot
Every website is different, so we've created many different types of widgets to fit your needs. Check them out below!
Choose
The
whos.amung.us

widget showcase

Click through the styles below to find what you're looking for. Remember, there is no signup required. Simply copy and paste the widget code into every webpage to enable stats.
Goes anywhere
This is our smallest widget. It fits perfectly no matter where you want to put it!
Tiny size

80x15 pixel standard

The original
The very first widget we made. Easily the most recognizable version.
Classic design

81x29 pixels

Like the original but in color
Exactly the same as our classic widget, except you pick your own colors!
Customize the classic colors

81x29 pixels


Stick it on top
Pin it on the edges of your screen
Always on top

9 positions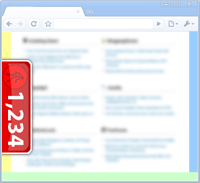 Embeddable map
Show your users where everyone else comes directly on your site
No flash

Resizeable

Selectable themes

Selectable pins